Music Converter
Version: 1.2 Updated on July 7, 2011
MediaHuman Music Converter is software developed for the conversion of purchased music tracks (WMA, M4B, M4P) to the most frequently used formats like MP3, OGG, WAV. It is especially useful in case if you have tracks purchased from online music stores and you want to listen to them on playback devices, which don't support its format and because these tracks are DRM protected.
Converts to unprotected MP3 format
Supports most audio formats
Batch conversion support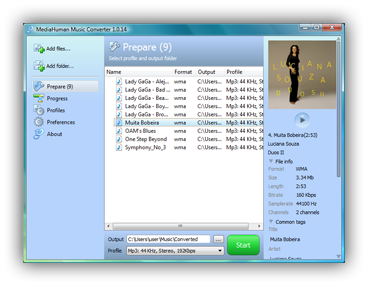 ---
Main Features:
The interface is awesome, easy to understand and use
The conversion process of your music is very simple: start the program, select the desired output format and output folder, add your selected audio files and press the Start button. The program supports Drag-and-Drop. You can easily add files for conversion. Example: You can add songs directly from iTunes.
Supports the conversion of purchased music tracks
If you want to listen on your iPod to music, which you have purchased from an online music store like iTunes, Napster, Rhapsody or another, then our software will help you. MediaHuman Music Converter supports conversion of purchased tracks, which are playable in Windows Media Player or iTunes on your computer.
Converts most audio formats
List of supported audio formats include WMA, MP3, M4P, M4B, M4A, MP4, AAC, OGG and WAV formats. So you can easily convert M4P to MP3 or WMA to MP3.
Allows you to add more than one file for conversion
If you need to convert a massive amount of files then MediaHuman Music Converter is what you need. Add all your files to the conversion list, press the Start button and have a rest while our program is working for you
Batch conversion support
If you have a big music library and want to convert it - this software is exactly what you need to speed up the process.
The most recent versions of audio codecs are implemented
To obtain the best quality converted music, the latest versions of audio codecs are implemented
System Requirements:
Windows 8, Windows 7, Windows Vista, Windows 2003, Windows XP (32bit/64bit)
Windows Media Player 9 or higher for WMA to MP3 conversion
iTunes and QuickTime for M4P to MP3 conversion
About 25Mb of free hard drive space
Step-by-step instructions:
Screenshots:
Our other products: